The "
Colors
" week went ok, but it is also one of the things that Little L and I have talked about the most. She learns Spanish in Preschool so it gets a little extra confusing for her since they have talked a lot about colors. To help out a little I downloaded this app for iPhone and iPad:
F
ärgmonstret.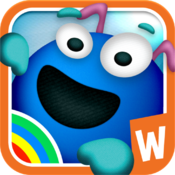 We got the first iPad pretty soon after it came out so there were not many apps for kids out. The iPad did not come out in Sweden until years later, and now I have finally been able to find some good Swedish blogs that review kids apps for both iPad and iPhone. This one is our favorite so far since you can look at reviews by age, rating or topic:
http://www.pappasappar.se
. I like having some Swedish apps so that the girls get one more source where they can hear the language. It is also fun to expose them to some of the Swedish characters that I grew up with like Pipi Longstocking, Pettson and Mumin.
If you have any suggestions for fun Swedish/Scandinavian apps, or a Swedish app review blog let me know. I'm always interested in seeing what others like.